Flat Component Division
Flat cables are manufactured to meet the demand for simplicity and improved efficiency of wiring in the increasingly sophisticated fields of computers and electronic devices such as DVD, CD, VTR, audio, OA equipment and game consoles. These flat cables are commonly used for mass termination in conjunction with connectors or just simply for board-to-board connections.

The main products from this division are as follows: -
SUMI-CARD™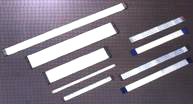 It is the brand name of SUMITOMO for FFC and it is mainly constructed with flat rectangular conductors sandwiched between two layers of electrical grade insulation materials. It is suitable for reducing wiring space and also for dynamic applications such as trailing cables for printer head.

In response to customers' requirement for thinner and finer pitch cables, SEPM has produced various state-of-the-art products. One of these innovative high-tech products is P0.5 SUMI-CARD™ (FFC with pitch of 0.5mm). In addition, we can offer shielded SUMI-CARD™ for applications, which require EMI shielding such as signal cable for scanner.
JUMPER LEAD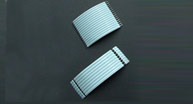 It is another type of our extensive flat cable products, which uses flexible round conductors. Jumper lead can also withstand high temperature, has fire retardant property and a long bending life. This is achieved with our OM-1S conductor, which has a stainless steel wire as the central core surrounded by a few tin-plated copper wires wrapped around it to form a strand of bunched conductors. We also produce jumper lead wire with flat rectangular conductors.
DOWNLOAD CATALOGUE