Blood Donation at SEPM
Hello, everyone! I am Murgan of Sumitomo Electric Interconnect Products (Malaysia) Sdn. Bhd (SEPM).
As in previous years, we opened a one-day blood donation room in our factory on March 18 this year. We are not sure the exact year of its establishment, but it has been active for more than 20 years.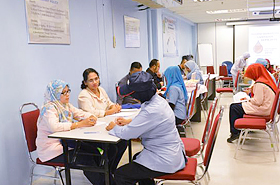 The program had initiated itself when one of a government hospital staff members approached our First Aider Team members on the possibility of running a blood donation program. The team then had a meeting among the members and proceeded to organize a campaign. From there onward, the blood donation program was made a yearly affair and was included into the First Aider Yearly Activity Plan.
In 2010, the First Aider Team has come under the wings of the Safety Department, by which the activity was monitored and assisted. We always try our best to have this event annually, but due to unavoidable factors, at times the event could not be carried out.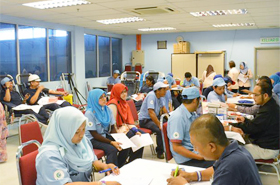 This year, 113 employees registered themselves to donate blood. Out of these registered blood donors, 109 of them donated blood. The rest of them couldn't due to some medical reasons.
For the event, 7 staff members came from the hospital, and they were assisted by 9 SEPM employees. The blood donation started at 9:30 a.m. and ended at 5:00 p.m. A total of 86 bags of blood was collected. The event was a success. We will strive to help lots of people next year with support from many employees.
24-Nov-2020