"SUMITOMO WE CARE ... Love Is Power That Propels Us Forward"
Hello everyone,
We are Mohd. Nazri Othman and C.K. Leong of Sumitomo Electric Interconnect Products (Malaysia) Sdn. Bhd (SEPM).
SEPM decided to cooperate with the local community via SUMITOMO WE CARE....
This is an integrated program as an exposure to educate and create awareness on volunteerism and charity program to the society, community and young generation towards the people with disabilities. The one month campaign was undertaken in period of November 13 - December 12, 2014.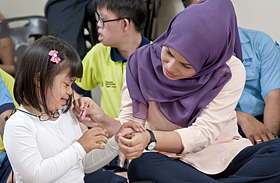 On November 13, 2014, our thirteen committee members visited Down's Syndrome Society Of Johor (PSDNJ) training centre. We conducted self-care and educational training to Down's Syndrome children and teenagers, as well as carried out "Gotong -royong (Working together)" activity such as cleaning the building yard and toilets, ironing their apparels, performed cooking and some others routine job in order to lighten their burden.
We tried to communicate with them and understand their feelings. It sets a chance for Down's Syndrome individual to develop the self-care responsibility and skill, as well as strengthen their concept of self-worth as an employed person and member of society.
Lastly, we prepared a special video clip named "Say Something(I'm Giving Up On You)" dedicated to all Down's Syndrome children. We shared our true feeling inside the video clip and realized of that they are "LOVING WITHOUT CONDITION."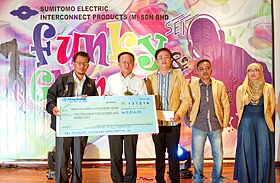 After visiting PSDNJ training centre, our committee members extended the SUMITOMO WE CARE ... program by promoting a charity fund raising campaign in SEPM in the period of November 14 - December 12, 2014. A special design donation box was provided for all company employees to donate the cash money for promoting the uptake of SUMITOMO WE CARE...
In the end of this program, SEPM Managing Director, Mr. Masao Sakuta presented a cheque for all SEPM employees' donation to the President of Down's Syndrome Society Of Johor (PSDNJ) during the SEPM Annual Dinner event at Berjaya Waterfront Hotel (Johor Bahru) on December 13, 2014.
Among of the significant year, with sheer determination and dedication, SUMITOMO WE CARE... program had successfully enhanced knowledge and experiences amongst SEPM staff and employees in physical, emotional and spiritual in social development.
24-Nov-2020